Bristol Independent Estate Agents
Established over 20 years ago, Property Concept is a fiercely independent estate agents that specialises in selling, renting and managing quality homes in Bristol's prime districts, including Clifton, Redland, Cotham, Harbourside and outlying villages. The finest estate agency in Bristol? See what our clients say!
Call us today 0117 970 6119
My partner and I recently brought our flat through Property Concept. When looking, we got frustrated with many estate agents for not having much knowledge about their properties or sellers' situation, but Property Concept were completely the opposite. It was clear the team take the time to get to know their clients and have expert knowledge on the local area which is extremely useful as a buyer. Our purchase was very complicated due to an old lease and Property Concept went the extra mile to ensure everything stayed on track. Some special thanks to Penny and Tracy, as it if wasn't for their professional advice and persistence the sale would have fallen through. I have no hesitation on recommending Property Concept and I have done so to my Landlord who is now using them to market his flat when we move out. Thank you again and we can't wait to move in to our new home. November 2017
I can confirm that I have been delighted with the service you have provided, yet again! October 2017
When looking to sell the property I met with 3 agents and selected Property Concept on the basis that they had a price strategy that made sense, were very knowledgeable about the immediate local area and were sympathetic to the whole process for us as sellers. From first meeting, to organising professional photography, floor plans and marketing they were efficient and communicated very well with me. Once viewings started they informed me of when they would be taking place and gave detailed feedback. Once we'd received an offer they were efficient at liaising between us and the buyers, giving advice when asked, leaving us feeling that we'd made the right informed decision. May 2017
All the staff at Property Concept were really efficient, kind, professional. Penny Down went out of her way to resolve some issues with my buyers solicitors which I was really grateful for, and she was always very reassuring and professional. I can highly recommend using Property Concept. June 2017
Renting a property can be difficult, Property concept made it easy! From initial moving in, reporting and resolution of problems through to moving out, the whole process was slick and supported by great communication from the team. There was always somebody available at the end of the phone and email's responded to quickly and problems were sorted within one or two days. I wouldn't hesitate to use them again, or recommend them to a friend. June 2017
I had to move during a stressful time and had never dealt with letting agents before so was a bit daunted by it all. Kayleigh and Emma really put me at ease and helped me through the whole process with a smile. I have dealt with other lettings agents since and none have been as helpful and friendly as the ladies at Property Concept. Thank you! July 2017
Over 20 years ago Tracy Robertson sold me my first home, a two bed flat in Clifton. Having worked with her since then she has provided invaluable property advice. The lettings team under the guidance of Beverley Martindale work seamlessly with the sales team providing high quality occupational and investment advice. Their experience, commitment and friendly approach have proven invaluable and I would not hesitate to use or recommend them. August 2017
It is unusual to find an agency who cares about and respects tenants. Faye has been very efficient throughout the rental process and displayed the kind of genuine friendliness I gave up expecting from agencies years ago. Thank you for being so flexible with our unusual (and sometimes complicated!) circumstances. September 2017
We have been very impressed with the way Tracy has handled the sale of our ground floor flat. Her communication was excellent throughout, often responding to queries outside of normal working hours. Her valuation was accurate and she was able to quickly find a suitable buyer for the property. Would recommend to others looking to sell a property. September 2017
Fiona & the team at Property Concept were brilliant throughout the sale of our flat. They were always available & went the extra mile to help on several occasions. We would highly recommend their services. September 2016
Thank you so much for your patience and giving us an amazing customer experience. It's certainly made the process easier and enjoyable! Best estate agent experience! Professional, helpful, credible. When we come to sell we'll most definitely come to Property Concept. September 2016
I have happily used Property Concept for letting my property for over 10 years. Recently they successfully sold our flat in Clifton and were a pleasure to deal with. Professional, knowledgeable, always on the end of the phone (no waiting for a call back or message taking), a really good team. Everything was conducted very smoothly and with care. I would highly recommend their services. September 2016
So many times in our lives we take the time to complain but yet don't take the time to recognise true professionalism! I had heard that Property Concept had a unique ethical approach to the Sales process however even with this high expectation I am still hugely impressed. I think it's also important for me to explain I am a consultant Business Analyst and one of my key objectives in companies is to improve their business processes….

 I have nothing to improve with Property Concept! Their professionalism yet empathy to circumstances, their commitment to respond to requests/queries even if they personally are not the acting agent speaks volumes and I cannot recommend this company enough. The practical advice and refusal to set unrealistic expectations coupled with a proactive yet supportive approach to a sales process has turned around what was a daunting divorce process into a manageable joint project. I thought it may have been down to a single exceptional representative (Vicky) but actually I have had 2 separate queries managed by 2 separate agents who treated me exactly as Vicky would have done and that is without the certainty of an actual Sale for the company at the end. This company in my opinion leads from the top, they select the best candidates. 

January 2016
Throughout this time PC has delivered a first class service, which made life for me very easy given I lived abroad.  So, thanks again to all your help, and please make sure my thanks is passed onto the lettings team (especially Bev Martindale). February 2016
I just wanted to drop you a quick note to thank you for all your hard work during the sale of my flat. I was very impressed by your professional approach and your commitment to following up with the solicitors and helping to push the sale through so efficiently. I am also very grateful to you for helping me to find another buyer so quickly after I was let down by the initial purchaser! I would be very happy to recommend Property Concept to anyone considering selling their property with you and wish all well for the future. November 2015
Featured Properties For Sale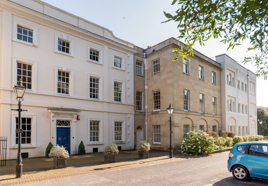 £779,950
An elegant apartment in Cornwallis House, a Grade II Listed Georgian Mansion House originally built in the 1740's. Flat 9 is located on the ground floor, with the benefit of...
more...
Featured Properties For Rent